Kinnick Stadium Press Box
Welcome to the Paul W. Brechler Press Box Premium Event Space at historic Kinnick Stadium, home of Iowa Hawkeye Football. Inside the Kinnick Stadium Press Box, state-of-the-art amenities meet the tradition and ambiance of Kinnick Stadium, creating a first-class atmosphere for your next event. The University of Iowa's newly renovated facility offers four different event spaces to accommodate groups of every size. We invite you to take a look around and explore the McCord Club Lounge, Mediacom Outdoor Club, University of Iowa President's Suite, and University of Iowa Athletic Director's Suite.
Each space is available to The University and to the public for events and gatherings.  Located on The University of Iowa campus, just two miles off of Interstate 80 it is easily accessible from any direction.

Kinnick Stadium Press Box
825 Stadium Drive
Iowa City, IA 52245
McCord Club Lounge Floor Plan
Mediacom Outdoor Club Floor Plan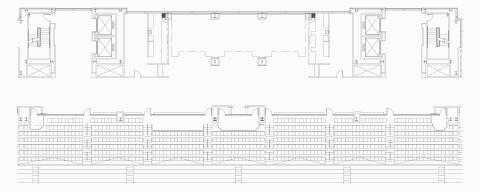 University of Iowa President's Suite Floor Plan
University of Iowa Athletic Director's Floor Plan
Kinnick Stadium Press Box Event Spaces